Our Team
Naturally Crafted in Union County
Just head out on the open road down Route 33, and you're bound to get the sense that Union County may well be a rarity in a world where throwaway, mass-produced and copycat archetypes are more the norm.
Here, the wide-open spaces of the rural countryside act as canvases for a bounty of creative ideas, locally grown and crafted products, uncommon experiences and opportunities that reflect the unique history, traditions and vision of this special place, connecting the past and present with generations to come.
Have you ever dined on farm-to-table fare under a covered bridge by the light of the setting sun? Have you ever watched a group of hot air balloons rise slowly aglow against the evening sky? Or viewed a sunset while doing yoga in a wildflower meadow? Have you ever sampled gooseberry wine or sipped an herbal soda? Or found a handcrafted piece of folk art, pottery, or unexpected primitive treasure in the middle of a charming Main Street?
From the historic covered bridges, wineries, breweries and local produce stands scattered throughout the scenic countryside to the farm to table dining, baked goods, colorful murals, hand-tooled bats, Amish made furniture, soaps, home decor, live music, trails and Art Deco theatre, every one-of-a-kind experience, artisanal product and memory in Union County is authentically and thoughtfully crafted in care from the hearts, minds and hands of the people who live and work here. And each tells a story that simply can't be duplicated anywhere else.
Through the years, Union County has thrived without having to change much of what really matters. Steeped in a solid foundation of agricultural history and roots tied to the land, it is on this fertile ground that even greater things have been built. A strong work ethic and attention to craft at the highest level of quality is manifested today in the county's high standard of living, educational institutions and economic development. And though Union County is one of the fastest growing counties in the state, agribusiness, and agriculture are still dominant industries today, and a burgeoning agricultural research and development infrastructure and technical ingenuity mean this sector will continue to thrive and grow in the years to come.
What attracted visionary thinkers, farmers, designers, builders, and creators, such as Reuben Partridge and O.M. Scott more than 150 years ago, still attracts global enterprises, such as Honda, chefs, brewers, artists and other groundbreakers today, as well as those looking for a refreshing getaway and an unexpected good time.
Union County's fresh air, beautiful, bountiful land and naturally crafted treasures remain invaluable and will be carried in your heart long after a visit. Yet, Union County's most alluring product of all may be its sense of place, preserved in the special moments, feelings, experiences, and memories of those who venture out and spend time here.
Union County, Naturally Crafted.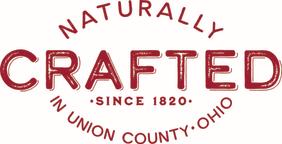 Something BIG is coming soon!
The Naturally Crafted certification program to begin Fall 2023.
What is a CVB?
We are an organization which promotes Union County as an attractive travel destination. We provide information to leisure travelers and we encourage event organizers to choose Union County for group travel, weddings and meetings.

​We are happy to assist in the following areas:
Connections to local service providers
Access to local savings and/or exclusive offerings
Help with "above and beyond" requests
Itinerary planning
Welcome Packets


Corrie Bott

Welcome Center & Design Manager

April Keiffer

Tourism Sales & Services Coordinator

Toni Sara

Welcome Center Assistant Manager

Ashley Schwyn
The Academy

Jason Stanford
Village of Plain City

Tim Schacht
Ohio Till Farmstead

Atish Patel
Evolv Hotels
 

Cody Johnston
Richwood Fair
 

Chaz Freutel
Get U Connected and Marysville Entrepreneurial Center

Anna Krutowskis
City of Marysville

Tim Dawson
Dawson's Pizza Group

Tonya Mabry
Dalton Union Winery & Brewery